Carlos Alberto Aguirre Betancourt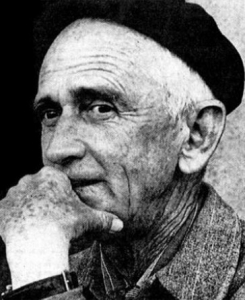 The Colombian philosopher Fernando González Ochoa (1895-1964) exhibited a rebel thought, deep and original, scattered in about fifteen books that range from Thoughts of an old man (1916) to The tragicomedy of Father Elias and Martina The Sailer (1962). Among his thesis stand out:
• The conception of time as a movement of the spirit, where man has to aspire to totality at all times.
• The great American mulatto, which is his sociological proposal in which highlights the potential of America as cradle of an integral human being and a community with ideological consciousness and unity.
• The philosophy and culture of the self, understood as the integral development of the personality. "When a young man understands that the secret is not in what you do, what you say, in dress, etc., but in the inner energy, he/she is ripe for philosophy."[1]GONZÁLEZ, Fernando. Don Mirócletes. Medellín: Eafit 2014.
• The theory of travels (of passion, mental and spiritual ones), where he understands metaphysics as a greater way of life, dialectic and dramatic.
In 1903 he is internee into the Jesuits father´s school in Medellin. Here he completed his elementary studies and begins high school. This time will be definitive in shaping his thinking, both because of what it takes out of the training provided by the priests as well as what he rejects and criticizes with violence. With the Jesuits he intensifies his introspective disposition and he is exercised in the use of methods: for self, for self-control, for self-knowledge. He concludes his studies at the University of Antioquia, from which he grants a bachelor's degree in Philosophy in 1917 and, two years later, the doctor of law. To achieve the latter, initially he presented a thesis entitled "The right to not obey" and then, at jury´s request, the simply titled "A thesis'. On it, he speaks on the economic and political situation in Colombia.
In his time is given, among other things, a political thinking that breaks with the administrative centralist conservatism, but not with its values, and that it´s opened to dialogue with liberalism to promote the commercial and industrial progress. This paradox, characterized by a liberal and open attitude in thought, while retaining a strong and genuine core traditional and catholic values, is observed in the evolution of his philosophizing, which initially breaks vicious elements of tradition, then retrieve them with a new and deeper construction meaning (this is the case, for example, with the concept of remorse and with many religious values).
The years of maturity and professional practice in Colombia allow him to publish two books: Travel on foot, which is perhaps his best known work in 1929; and My Simon Bolivar, written in 1930, on the centennial of the death of the Liberator. Far from being a biography, this book presents the reactions that the figure of Bolivar produced in Fernando Gonzalez. Here overlooks a fundamental feature of his works: Gonzalez is not interested into showing the objective truth of things in a scientific study, but what things are for him at the moment of revive them. Here a hermeneutical spirit is revealed in the thought of Gonzalez, let´s remember with Gadamer that to understand is auto understanding. This supports, also, the intrinsic relationship between life and philosophy: the topics of reflection are his own experiences, emotions and vital concerns. This feature is typical of all Fernando Gonzalez work.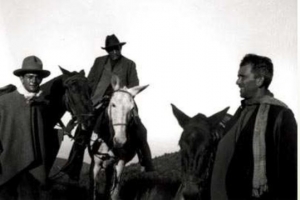 In 1931 he was appointed consul of Colombia in Genoa, where he moved in with his family in 1932. The following year he should withdraw from office due to government pressures, that was not willing to tolerate his criticism of Mussolini. Then he receives the consulate in Marseilles, where he is in charge between 1933 and 1934. These works will allow him to link up with important writers and thinkers of Europe and broaden his vision of man, deepen his search for God and sharpen his criticism of the Latin American peoples. Museums, streets and European cafés were the scene of his finest philosophical intuitions.
Encouraged by his assiduous contemplation of classical and Renaissance sculptures, he produced a book on the art and Western culture: The sleeping hermaphrodite.
This long detachment also intensifies his consciousness of solitaire South American, who must live as banished because his searches are not understood by his contemporaries. This leads him to write Don Mirócletes, published in Paris. His stay in Europe allowed him to soak up even more with the desire for sublimity and transcendence, in the sources of classical culture.
On his return to Colombia he experienced his most fruitful and most intellectual commitment period, publishing El Remordimiento (Remorse, 1935), Cartas a Estanislao (Letters to Estanislao, 1935), Los Negroides (The Negroid, 1936) and the magazine Antioquia (seventeen numbers between 1936 and 1945). There's included the novel Don Benjamin, jesuita predicador (Don Benjamin, Jesuit preacher) and El maestro de Escuela (The schoolmaster, 1941), the last work of this period, after which it is locked in a time of silence. Thus ends this period of consolidation of his thought, after having lived its heyday, where the main lines of his
philosophy were defined: the principles of emotional method, connecting reflection with the experiential world, his insistence on philosophical life, the use of alter ego and express concern about authenticity of being Latin American.
From 1953 to 1957 he is again consul in Europe (Rotterdam and Bilbao). In the old continent the new ideas of his last philosophical book are forged, with which a silence of eighteen years is broken: El libro de los viajes o de las presencias (The book of travels or the presences, 1959) which can be taken as the conclusion of his thought. In this work metaphysical reflections are interspersed with the story of his encounter with himself. He is convinced of the failure of traditional metaphysics, devoted entirely to the conceptualization. Fernando Gonzalez opted for a possible metaphysics, but not as a concept, being of reason, mental construction, but as life and dialectical process.
In 1962 he published his last work, a novel: La tragicomedia del padre Elías y Martina la Velera (The tragicomedy of Father Elias and Martina the Velera). Both books, however, had little acceptance at the time and at the author's death in 1964, were almost unknown in the Colombian intellectual and literary field. His books from this period are the most philosophical ones, the highest ones in acuity and in the use of concepts and formulation of categories.
In the texts of Fernando González you can find more than one definition of philosophy, apparently without much relation to each other, but by knowing his thinking and deepen on his reflections, you may see the thread that binds these concepts:
• "Philosophy arises as consequence of the instincts, the state of the soul and the experiences: it is reaction to them and, therefore, it can be explained from the philosopher's life and in turn explains him".[2]GONZÁLEZ, Fernando. Pensamientos de un viejo. Medellín: Eafit 2014.
• "It is preparation for death; its muse is the certainty that life is limited and one does not know what comes next, but we need to have something later. It becomes meditatio mortis".[3]GONZÁLEZ, Fernando. Ibíd
In this game of chiaroscuro, Fernando Gonzalez reflections dance on the pursuit of wisdom, a search intrinsically linked to the experience. In these very own conceptions of the first stage, it's evident a marked vitalism; a rejection to the false philosophy that puts intellectualism over life.
Another passage from his first work that highlights the above is: "I do not give the right to judge me but who has lived life tasting it with retreat. To any librarian wise I give the right to judge me. These things are not learned, we must live them".[4] GONZÁLEZ, Fernando. Pensamientos de un viejo. Op. Cit.
For him, philosophy is building, is practical creation that leads to a moral conviction and therefore a natural experience of this moral:
• "It is the philosophy of the personality, not as a theoretical reflection, as a vital exercise, path to meet and manifest."[5]GONZÁLEZ, Fernando. Los negroides. Medellín: UPB. 1995.
• "To philosophize is to raise issues about life and want to live in accordance with the ethical principles that emerge from the foreshadowed truth."[6]GONZÁLEZ, Fernando. Libro de los viajes o de las presencias. Medellín: Bedout. 1973.
• "Finally, to ruminate experiences, understand them and know them."[7]GONZÁLEZ, Fernando. Viaje a pie. Medellín: Eafit 2014
This intuitive encounter with the laws of human nature led him to propose a mystical conception, based on the contemplation of the laws of life and the universe:
• "To philosophize is to glimpse the presence of God in the phenomena, after which you can interpret how he is."[8]Cf. GONZÁLEZ, Fernando. Ibíd.
• "It is a journey toward intimacy, to reach the blessed life."[9] GONZÁLEZ, Fernando. Libro de los viajes o de las presencias. Op. Cit.
• "It is to discover the causes, origins and principles beneath the phenomena to guess the mother thread that serves as the axis fabric to the ephemeral becoming, capturing reality almost on its original being".[10]GONZÁLEZ, Fernando. Remordimiento. Medellín: Bedout 1973
All these definitions have as common trait to involve life, they allow to understand what has had lived and find its foundations; its function is also ethical, sets a way of living.
In addition, there is another relationship with life in these definitions, that supposes to see in it more than a mere succession: it is to set in it as an absolute horizon, in its unity and totality. To this extent, life takes on a metaphysical value, it turns out to be the testing ground of Being, that it becomes phenomenon in the full-unit of the mutable. So the philosophy is called to provide an understanding of beings that leads to Being, that is, to discover God manifested in phenomena; but it should always be considered as a journey, never as arrival.
Indeed, for Fernando Gonzalez philosophy has an existential function, it must be lived, because its results are not the transmittable universal ideas in books but a renewal of life. It unfolds before the philosopher, even to the amateur one, like a road. To Teach it, it is only to indicate where the path can start and to prevent about some dangers and precautions to be observed; but the trip has to be done by each one, because the own experiences are the itinerary and the burden that carries is one of each own.
"One night you will have a vision: an endless path and in darkness; you will see that on it advances a one that takes an increasingly smaller load, since it is hump that feeds him, as the dromedary. One will tell his own: "That's my spirit that goes alone with his burden, feeding on it." The hump is the body and passions, instincts, desires, habits, all matter of terrestrial life. The decrease is that as you live, instincts are met, etc. And to nourish is that the spirit acquires knowledge as it experiences"[11] Cf. GONZÁLEZ, Fernando. Remordimiento. Op. Cit.
Thus, this is how we find in the express definitions of philosophy, a relationship with the philosopher's life, as understanding of the plot of life, ethical regulation and openness to the absolute horizon of Life; his realization as an existential task of a subject; and his attempt to understand death.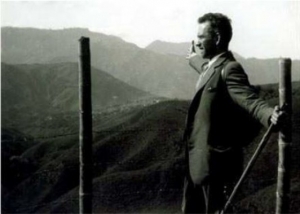 Another essential component is consciousness: to philosophy is to ascend in consciousness. All the time Fernando Gonzalez acts motivated by this concern, which is the foundation of its motto "I suffer, but I meditate" and his conception of life as a field of experimentation and promotion. From this component its released the emancipator y
character of his philosophy, because it allows to gain mastery and control over the processes of personality, so as to stop acting by reaction, mechanization, enslaved by the casualty that circumstances determine. The challenge is to discover all that is in power, everything that everyone can become, like a skein to be unwound, and philosophy helps to deploy it.
Fernando Gonzalez, in all his work, is a religious existentialist, he turns the word into life and life in an absolute aspiration of the Absolut, of Totality. His thinking is concrete, experiential, it is founded on experience, and therefore, sometimes paradoxical and contradictory.
All his work is an autobiography recreated in the aesthetic, intellectual and religious levels. Nothing of what he wrote is detached from his concrete experience of being a man: his books were not only thought, but suffered, born in response to his desire to meet, to communicate, to be self-critical and to resolve his conflicts with reality, not caring that some of his books were banned and condemned.
We are facing a man who dared to think and to denounce the errors of society and who knew how to open to the world while remaining himself.
↑

1
GONZÁLEZ, Fernando. Don Mirócletes. Medellín: Eafit 2014.

↑

2
GONZÁLEZ, Fernando. Pensamientos de un viejo. Medellín: Eafit 2014.

↑

3
GONZÁLEZ, Fernando. Ibíd

↑

4
GONZÁLEZ, Fernando. Pensamientos de un viejo. Op. Cit.

↑

5
GONZÁLEZ, Fernando. Los negroides. Medellín: UPB. 1995.

↑

6
GONZÁLEZ, Fernando. Libro de los viajes o de las presencias. Medellín: Bedout. 1973.

↑

7
GONZÁLEZ, Fernando. Viaje a pie. Medellín: Eafit 2014

↑

8
Cf. GONZÁLEZ, Fernando. Ibíd.

↑

9
GONZÁLEZ, Fernando. Libro de los viajes o de las presencias. Op. Cit.

↑

10
GONZÁLEZ, Fernando. Remordimiento. Medellín: Bedout 1973

↑

11
Cf. GONZÁLEZ, Fernando. Remordimiento. Op. Cit.