Dominique Duquet
We organized the 1st meeting of the Hermès Institute on 29 and 30 April, in Strasbourg.
Present were: Fernand S., Isabelle O., Brigitte B., Brigitte R., Sylvianne C., Léonard B. and Dominique D.
Saturday morning, we transmitted the following studies:
 "Hermes' traces in Alsace" by Leonard explaining the multiple expressions of hermetic tradition in Strasbourg, Alsace and in particular the cult of Mercury in the Gallo-roman period.
 "Symbolism of Versailles's gardens" by Dominique. The Gardens associated with the Castle of Versailles represents a truly sacred geography; where each place, statue, basin or grove has a special meaning associated with a step on the journey from the shadows to light; from North to South and from East to West – as that of the sun's actual path.
 "The new anthropological" spirit by Fernand S. New discoveries have promoted the emergence of new paradigms in anthropology. A new vision of reality is required Linking the imagination to reason; reality is no longer simply quantifiable; it becomes representable by imagination – and hence more accessible.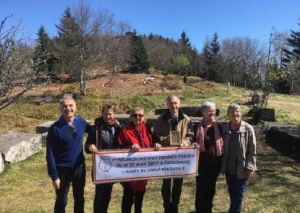 Following a gastronomic meal, we visited Strasbourg's Archaeological Museum and the historic districts of the city, in the afternoon.
Strasbourg's Archaeological Museum is one of the most important French museums of archaeology in the field of "National Antiquities". It presents several millennia of Alsace's ancient history and its inhabitants, since its distant paleolithic origins (600,000 B.C.) until the beginnings of the Middle Ages (800 A.D.). A visit was organized covering four major chronological periods: prehistory, proto-history, the Gallo-Roman and Merovingian periods.
Sunday morning: we visited the Gallo-Roman site of Donon, 60 km. from the city.
Its altitude of 1009 m. and the culmination of low-Vosges, at the junction of the provinces Alsace and Lorraine, constitutes Donon's massif. As early as prehistory, it was assigned as sanctity. Its situation far from other homes — favoured the development of legends, mixing myth with reality.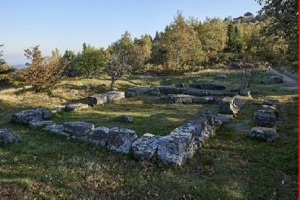 The Romans were mysteriously seduced and dedicated the site to Mercury.